Sideshow presenta la nuova art print "Gallevarbe: Beyond the Veils".
Le varie versioni della print saranno in preordine dal prossimo Lunedì, in attesa di ulteriori dettagli, seguitemi dopo il salto per la gallery.
---
Hello Pop Art people, Sideshow has revealed the upcoming "Gallevarbe: Beyond the Veils".
"We are all both hunter and hunted. Prey, tell me, which role will you play today?"
Est. Arrival: Nov 2020 – Dec 2020
Gallevarbe: Beyond the Veils
Art Print by Sideshow Collectibles – Limited to 150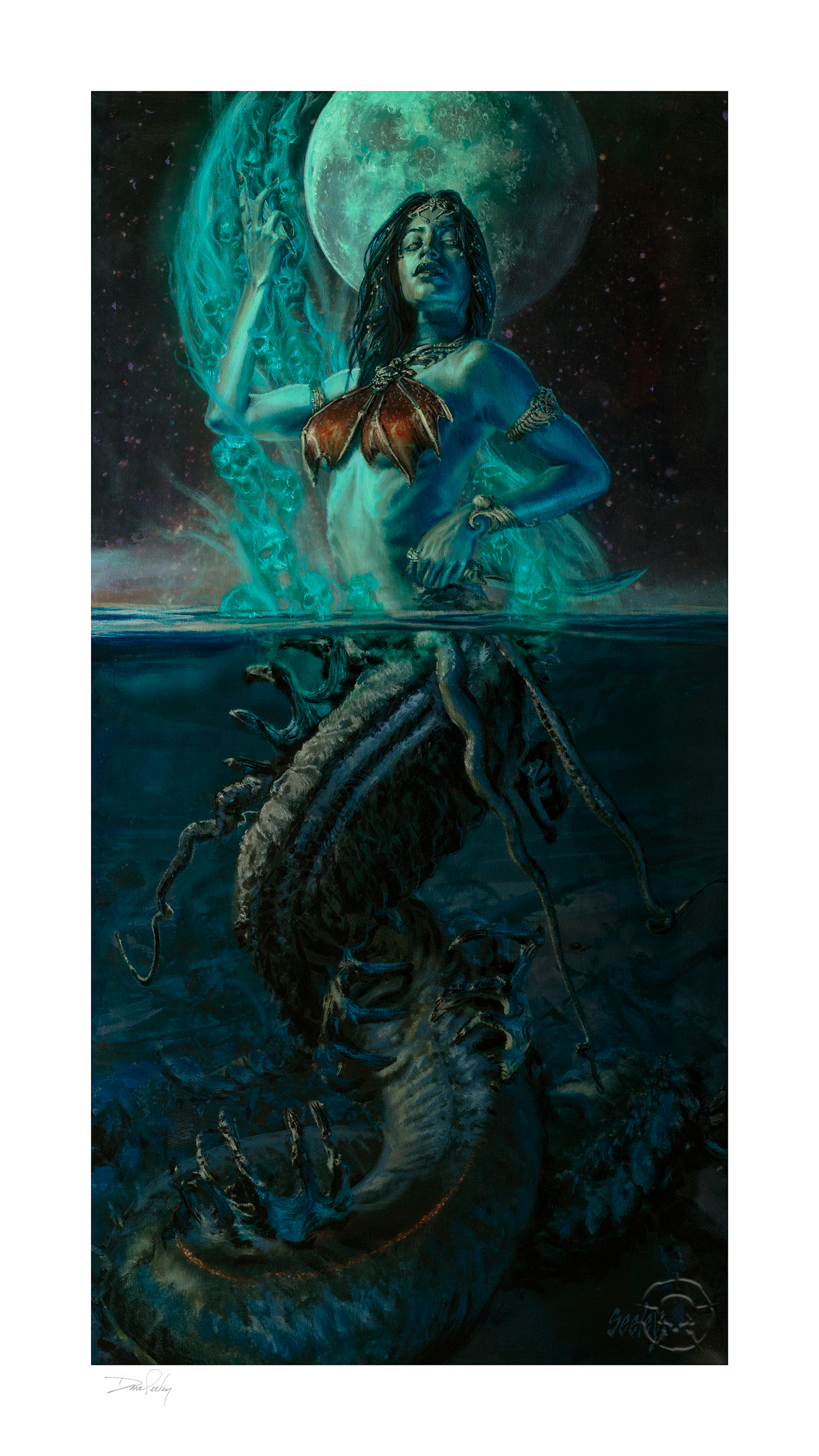 — Gallevarbe, Death's Siren
Sideshow presents the Gallevarbe: Beyond the Veils Fine Art Print by artist Dave Seeley. The print features Gallevarbe, a character from Sideshow's original dark fantasy horror property, the Court of the Dead.
Between the Mortal Realm and the Underworld, there is a treacherous boundary called the Veil of Shadows. This ocean of darkness is impenetrable to most mourners, but Gallevarbe is Death's Siren, able to shift her form and function, so she navigates the Veil flawlessly. From there, she hunts the most coveted mortals and drags them into Death's Realm.
In the Gallevarbe: Beyond the Veils Fine Art Print, Death's Siren takes on two forms. Above water, her smooth blue skin reflects the moonlight and the glow of ethereal skulls rising from the depths. Her intricate jewelry and dagger are as sharp as her stare. Below the surface, her ever-shifting serpentine form coils as she prepares to pounce. Ribcages on her tail reach out like clawed fingers eager to ensnare the next worthy prey.
Hunt or be hunted when you add the Gallevarbe: Beyond the Veils Fine Art Print by Dave Seeley to your Court of the Dead collection.
Print details:
About the Artist:
Limited edition of 150
18×32" fine art giclée print, approx 22×36.5" with frame
100% cotton, acid-free, matte Museo Rag 300GSM
Epson archival inks
An authorized, automated penciled signature
Official Court of the Dead embossed seal of authenticity
*Print is wrapped and hand-rolled in acid free paper, inserted in a protective plastic sleeve, and shipped in a 4" diameter tube*
Dave Seeley became an illustrator after a successful career as an award winning architect. He approaches image-making much the same way as complex building designs by defining objectives and crafting process in order to achieve very specific, targeted, and wondrous results. Dave utilizes all available tools in 2D and 3D, using photographic, digital and traditional media.
His printed work has appeared in The Workbook, Directory of Illustration, SPECTRUM: The Best in Contemporary Fantastic Art, and The Art of Dave Seeley by Insight Editions, a premium monograph detailing his work and career. Dave is also featured in several fantasy art masters collections, and in the documentary film by Roadhouse Films, Visions From the Edge: The Art of Science Fiction. Clients include Disney, Lucasfilm, Marvel, Fox, Sony, Hasbro, Saatchi, Random House, Simon and Shuster, Bantam, Tor, Del Rey, Harper Collins, Boeing, Legoland, SeaWorld, and many more.
Upgrade your Sideshow Premium Print collection today, this is a must have!
---
Tutti gli oggetti presentati in questa pagina: – Sideshow Premium Print – sono disponibili per ordini o preordini presso la Fumetteria Inchiostro & Tempera di Napoli.
______________________
Sito Web: http://www.inchiostroetempera.it
Blog: https://inkandtemp.wordpress.com/
Facebook: https://www.facebook.com/inchiostroetempera
Twitter: https://twitter.com/Inkandtemp
______________________________________________
Inchiostro & Tempera – II Trav. Via T. De Amicis # 39 A/B/C
(Metro Collinare Policlinico) – 80131 – Napoli – ITALIA – Tel. 081/1874 0762 –
---